It is a standard practice for most tenancy agreements in the country to have an end of tenancy cleaning clause. According to it, tenants are required to restore the property to the condition in which they found it upon first moving into it. As part of that clause, most landlords oblige their renters to carry out a moving out cleaning. With so many inexpensive end of tenancy cleaning services in London these days, this is a responsibility that is not hard to fulfil. Things, however, may get trickier if renters decide to leave behind a large amount of waste when the vacate the house or the flat. If you are a landlord that has found themselves in a similar situation, you need to learn more about:
Tenants' rubbish responsibilities
Landlords' rubbish responsibilities
The different types of waste
Who you need to turn to in such cases
Waste the disposal of which is the landlord's responsibility
The only kind of junk that landlords need to worry about is one that is a direct result of the home's maintenance. That can, for example, be after-builders waste and garden clearance junk. As owners of the property, landlords are the only people who can initiate and carry out construction and major renovation works in it. The same goes when a domestic or electronic appliance breaks and needs to be replaced.
Waste the disposal of which is the tenants' responsibility
Household waste needs to be taken care of by the renters and renters only. The same goes for any junk that was produced by them – old magazines, worn-off clothes, clutter or any other types of unwanted items. As a landlord, you have the right to demand the people who rent your property to maintain it in a good and clean condition and, as part of that right, you are allowed to check if they are properly fulfilling their obligation.
What should you do in this case?
Having outlined the above-mentioned waste-related laws and responsibilities of both landlords and renters, you probably think that you have nothing to worry about if you find your newly-vacated house or flat filled with all sorts of junk and unwanted personal possessions which tenants have left behind. Well, you will need to think again. Once the renters move out, their rubbish becomes your rubbish. This means that your local council can fine you and not them. If that happens, you will have no other choice but to cover that fee. Later, if you have the energy, time and the money, you can try to locate the wrongdoers and ask them to reimburse you for that financial inconvenience. Usually, that is easier said than done and a court case may follow.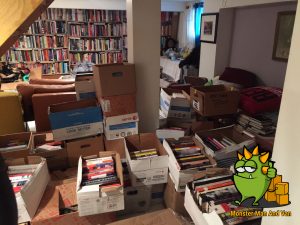 So, if you find the junk of your renters on your property, accept the situation as it is and never again make the mistake to let tenants move out without you viewing the house first. Otherwise, you will find yourself hiring an insured man with a van in New Cross E14 or some other London area after every end of the tenancy period.