The Royal Borough of Kensington and Chelsea is one of the most prosperous London areas and a great location for sightseeing, shopping, relaxation, eating, drinking and other activities. Whether you are visiting as a tourist or you have just moved with help of a renowned man and van in North Kensington W10, W11 and are looking for something to do, Kensington and Chelsea will not disappoint as there are plenty of things to see and do, including:
Natural History Museum
Kensington Palace
Holland Park
Portobello Road Market, etc.
Let's explore some of the most popular attractions in Kensington and Chelsea.
Kensington Palace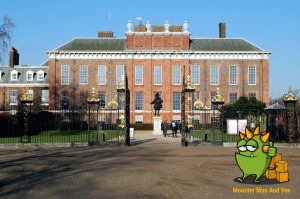 One of the best ways to learn more about royals and their life is by visiting Kensington Palace. It was built in 1605 and bought by King William III and Queen Mary II and has served as a royal residence. Part of it is open to the public for tours and special exhibitions year-round. Visitors take four different routes to learn more about the history of the palace:
the Queen's State Apartments – the reign of William and Mary
the King's State Apartments – the reign of Kings George I and II
the Queen Victoria section – her personal life and ascension to the throne
exhibition area
Apart from these routes, visitors can also enjoy the gardens and the orangery, where they can have tea.
Pictured: Kensington Palace
Green spaces
Thanks to the professional assistance of inexpensive man and van services in West Brompton SW10, your removal has been completed successfully. However, you still need to relax and one of the best ways to stay energised is to get a bit of fresh air outdoors. Luckily there are a number of parks and open spaces in Kensington and Chelsea for you to enjoy. For example, Holland Park is the largest park in the borough with many mesmerising gardens, sports areas and children's play facilities. Another lovely green area is the Chelsea Physic Garden, the second oldest botanical garden in Britain. It is a little slice of heaven hidden in the city with a huge range of plants, including those from tropical climates. And finally, don't miss Kensington Gardens, home to the Serpentine Galleries, Peter Pan statue, the Albert Memorial and the Diana Playground.
Museums
Apart from affordable man with van services in South Kensington SW7, SW3, SW5, this area is also known as London's museum quarter. For example, if you visit the Natural History Museum, you can see a massive collection of specimens, including casts of extinct animals and dinosaur skeletons. You can also see some specimens collected by Charles Darwin. As you stroll down the Exhibition Road, you will see the Science Museum, as well as the Victoria and Albert Museum. Make sure you visit them, too.
Admire the architecture of Notting Hill
Notting Hill is a neighbourhood that shouldn't be missed by any architecture lover. Its impressive Georgian, Edwardian and Victorian architecture with charming pastel-coloured residences, grand terraces and communal gardens is one of the reasons why Notting Hill is so popular and expensive among Londoners and celebrities. Vibrantly coloured homes can be found on Portobello Road and Lancaster Road. In addition to amazing properties, you can also find a trustworthy man with a van in Notting Hill W11.
Pictured: Portobello Road, Notting Hill
Shopping
When in Kensington and Chelsea, one can expect a unique shopping experience. King's Road and Kensington High Street are one of the best London shopping streets. These can cater to a lot of your needs and are the places to go for young fashion and outdoor retail. Sloane Square is home to some of the world's most revered luxury brands. Whether you are looking for designer handbags or some of the world's most luxury automobile brands, you will find them in Peter Jones. Additionally, don't miss the luxury Harrods and Harvey Nichols.
If you're looking for a market atmosphere, you should go to Notting Hill and visit a famous Portobello Market. Golborne Road Market with food, antiques and vintage clothing is also worth visiting. And finally, for those who like quirky and unusual items, there are rather special one-off boutiques. Bottom line is that this beautiful London Borough offers a little something for everyone! While it is true that local prices can be rather steep, that is not without a reason.