Do you do home/office removals?
Yes, at Monster man and van we do both domestic and commercial relocations. We are certified for both lines of work. Our movers have experience in moving homes and offices, as well as the relevant gear for such jobs.
Can you help me pack?
We have a very comprehensive and cost efficient packing service that will provide you with adequate assistance with preparing your goods for the road.
How can I pay?
We accept cash payments, credit cards (Visa and MasterCard), bank transfers, invoicing and wire.
Are my goods insured?
You can add  full Goods in Transit Insurance to your quote. Just inform the specialists from our team you are talking to that you wish to do so, or thick the Insurance box before you submit your online contact form.
Do you move after work hours?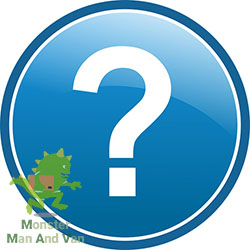 Yes, at Monster Man and Van we work on a flexible schedule that is tailored in accordance to your needs and preferences. We work when you want us to. Have in mind that late-night and weekend operations may be viable for additional charges.
Can you get my boxes to (…) floor?
Yes, we will gladly help you bring your boxes to your new apartment, no matter what floor it is on. Just inform us in advance for such details so that we can adequately prepare for tackling them.
What areas of London do you service?
Our moving services cover the territory of Greater London completely. We service all postal areas to the south and to the north of The Thames alike.
Are your movers licensed?
All technicians at Monster Man and Van, being packers, movers, drivers or helpers are certified for the line of work that they are send to handle.
Can I travel with the driver?
Up to two passengers can travel on the van along with the driver. If you want to travel with the driver, we would appreciate you informing us in advance.
Are your services child and pet friendly?
All moving services provided by Monster Man and Van are guaranteed to be child-friendly and pet friendly. What is more, our movers will provide you with useful tips about making the transition smoother for your little ones and/or animals prior and after the actual  removal.
Can you help me with the end of lease cleaning?
We can send a team of professional cleaners to handle the end of tenancy cleaning for you. It will be done on schedule considered according your needs and preferences. Furthermore, we can arrange a rubbish removal service too. Consult the relevant service pages on this website for further details on the matter.
What size of van do I need?
Contact us any time over the phone or via email and we will arrange a viewing to better determine your needs.
Do you move pianos/antiques/works of art?
Yes, we have the resources and skills to handle those specialized removals and much more. Do not hesitate to contact us for help with a tricky moving project.