Cycling is a popular mode of transport in London. Although the local population is not as dedicated and open to bicycles as that in Copenhagen, for example, there are many great places and parks where you can ride your bike in peace. What is more, many people commute to work on bicycles. And while a bike can help you get around London easily and quickly, it may be a nightmare for anyone who is currently in the process of moving home. Bicycles are hard to move because they:
Have an odd shape
Are delicate
Tend to be hard to disassemble
Take a lot of space
However, with the right knowledge and a dependable and experienced team of qualified house movers in London by your side, your unmotorised two-wheeler will survive the moving process unscratched and in an excellent condition.
Go for a ride
One quite obvious way in which you can get your bike to your new house is by simply riding it to there. In that way, you can go and explore your new neighbourhood. Also, you will not have to spend money on a bigger moving van to transport it. However, there is one problem – this would only be possible for short distance moves. If you are planning to relocate to the other side of London or to a different city, you will need to move it together with the rest of your possessions.
How to pack a bike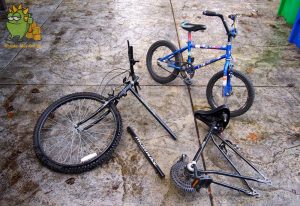 Packing a bicycle is very tricky and that is why some people decide to just chuck it in the moving vehicle without making a single effort to prepare it for its transportation. But you should avoid doing that for two different reasons: one – this may damage your bike or the other items in the van; two – it takes too much space.
Also, before you get to the actual packing of the bicycle, clean it well. Even if you only ride it in the city, the tires will surely be very dirty. We doubt that you would want to have mud on your sofa cushions or on your bedroom carpet.
If you can only afford to hire an SWB moving van, you may find it impossible to fit your bicycle in it. So, you will either have to book a larger vehicle or to disassemble the bike. The latter will require you to use special tools and to have a good knowledge on the structure of a modern two-wheeler. An easy solution to that is to simply have it disassembled in a bicycle shop.
Things you will need
It is advisable to pack your bike in a bicycle box. If you still keep the one in which you bought it, you can use it. If not, ask your removals company to provide you with one. You will also need a small box for the disassembled parts of the bike. Put bubble wrap on the more delicate parts of the bicycle (the frame, the wheel axles and etc.). Use packing tape to secure the bubble wrap.
Lastly, regardless of the size of the moving truck, you may want to remove the seat and the pedals of the bike. That will allow you move it more safely.