If you have been wondering if there is one place in London that is better than the rest for you to move into in the foreseeable future, the answer is yes, there is. Bexley has the potential of becoming your favourite place in the capital due to its great collection of historic and cultural background, thriving economy and comfortable residential developments that are a true escape from the stress and strain of the big city.
The London Borough of Bexley is a beautiful place located to the south-east of Central London, on the southern bank of the River Thames. While looking at the map you might get the impression that the majority of the area is too isolated from Central London, but the simple fact of the matter is that thanks to the great transport links here you can reach literally any point in Central London for no more than 20 minutes – so distance is never a problem.
A small, hidden gem
One of the trendiest areas in Bexley in recent days is Longlands. The area is quiet and peaceful and much preferred by people who have grown tired of all the hassle and stress of central London, but who still would like to continue living in the capital and reap the benefits from it. Even if you are one of these individuals who work at home and would not be leaving their neighbourhood much, you will find all that you need in Longlands – restaurants, shops, a post office etc. Major features in the area include:
Frognal Corner Roundabout
Sidcup Fire Station
Sidcup Place
Longlands Park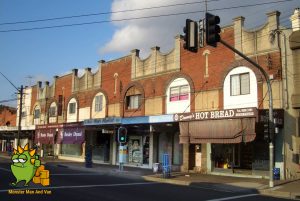 Families with children are particularly fascinated by Longlands, which offers access to some pretty good schools – Longlands primary school and Dulverton Primary School, St Mary and St Joseph's Catholic School and even a small college. Naturally, one can easily find a reliable man and van in Longlands DA14, DA15 to help them relocate to the area.
Pictured: A commercial street in Bexley
Another peaceful and beautiful place
Another place we would like to bring your attention to is the area of North End. Located at some of the easternmost premises of the borough of Bexley, North End is considered to be part of the DA8 postal town. The former hamlet used to be part of the ancient parish of Crayford. It is called this way because of the North End Road that runs through the area. Slade Green railway station on the North Kent Line from Dartford to London serves the district and connects it easily and quickly to Central London. The River Thames is also nearby to the north, and the riverside offers great opportunities for sports and recreational activities. Many of the people looking for cheap man and van services in North End DA8 are families with children and retired couples, but more and more young professionals are also coming to the area attracted by the qualities and property investment opportunities offered by this up and coming neighbourhood.
Northumberland Heath – where you will be at home
Yet another great neighbourhood is Northumberland Heath, which is more densely populated and a bit busier than the areas we have already had the chance to mention here. According to the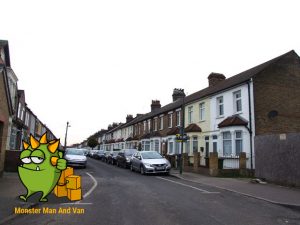 2011 census, the population of Northumberland Heath is 10 598. The majority of the housing here has been developed in the Victorian period, so if you are looking for a nice terraced house to move your family to, this is your place. The district is famous for its great man and van services in Northumberland Heath DA8 as well as its very strong community spirit, demonstrated at best at the local library – a true centre of culture and consciousness.
Pictured: Horsa Road, Northumberland Heath
Slade Green is another locality we encourage you to look into when you are researching Bexley. A licensed man and van in Slade Green DA8 will help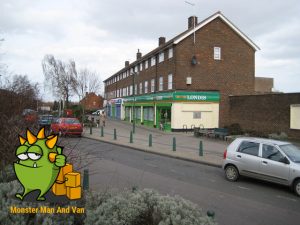 you move here without hassle and stress. You will have the unique chance to be part of a community with centuries of history and some beautiful classic English architecture. As part of Bexley Riverside, Slade Green is included in an extensive urban regeneration effort, so property prices here are bound to rise in the years to come – do not miss your chance to move here now.
Pictured: A Residential street in Slade Green