Winter is a great time to move for several reasons. First, you will need to find an experienced moving company in London that will provide excellent services in a nick of time. Second, try to get the best movers at a reasonable price. Even though winter moving has its benefits, one should be aware of possible moving issues and make necessary preparations to avoid them timely. If you cannot afford a full property removal service, consider using professional assistance only for your bulkiest possessions. For instance, many reliable moving companies offer convenient furniture collection in London at a good price. Here are a few smart tips on how to make your removal in cold weather a huge success.
Make sure your current place is ready for moving out
Moving out during cold weather will go smoothly if you take certain things into consideration like icy and slippery conditions. You have to make sure nothing gets in the way when loading your possession onto the moving truck, but you also need to protect the inside of your home. Here is how to prepare:
Address snow issues
Protect your floors and carpets
Have a backup plan in case weather conditions change
Your sidewalks, walkways, and driveways have to be snow-free. Movers must have enough clear space to move with dollies and other equipment and it is your responsibility to ensure that. Get rid of icy areas by using salt or sand the day before the move. Also, check the area on moving day in case it snowed overnight.
You need to protect the inside of your current house including floors, walls and other areas from snow, water, salt or sand. You can use cardboard, plastic sheeting or other coverings to ensure a proper protection. You can use cardboard for carpeted areas and plastic sheets for the floors. You can contact a risk-free man and van in Preston HA9, for example, and ask what will work best. Get everything ready before the movers arrive.
It is important that you monitor the weather on your moving day. Since you'll be so occupied with final preps for relocation, you can easily forget to check outside to see if the weather has changed. Make sure to check the forecast the day before. And finally, make a plan B for any potential weather changes.
Make sure your new place is ready for you on moving day
It is recommended that you visit your new house before moving day to ensure everything is ready for your arrival. Since it is probably cold and snowy, make sure to focus on following and complete your relocation stress-free.
Set up all utilities
Make sure all utilities are set up few days before your arrival. You will want to come to a warm and lighted house so make sure you have the heat, electricity and water on. Setting up all utilities in advance is recommended regardless of the season you decide to move.
Clear the snow from the walks and sidewalks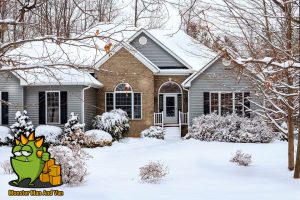 It is a good idea to clear the snow from the walkways in front of your new property. You will need clear paths for unloading, clear parking space for the moving truck and other. You can visit the place one day before the move and ensure the walkways are clear and free of ice. If your new house is in another city, contact your agent and see if they can check it out for you.