Moving is an ideal opportunity to declutter and get rid of old and unwanted household items. You probably have electronic waste you wish to dispose of responsibly. Electronic waste, or e-waste, is any electric device that is not functional and needs to be discarded. When disposing of this kind of waste, such as kitchen appliances, cell phones and other, you need to be extra careful because you cannot simply throw it into your garbage bin. You need to dispose of it properly in order to protect the environment and keep it clean. You have already hired a skilled man and van in Petts Wood BR5 to help you move smoothly. Contact them and ask if they provide rubbish removal as well. It is a simple, affordable and clean way to get rid of your e-waste.
Electronic waste and recycling
Most electronic devices contain materials that can be recovered for future uses. This process of recovery is called recycling. Before e-waste is recycled, it is first separated into two piles: plastic, glass, and metal go into one pile and electronics into another. And then, electronics undergo further separation into three categories. The first category includes electronic parts that cannot cause any harm, including wires, copper, glass and other. The second category includes circuit boards, hard drives and other small parts. And finally, the last category includes parts that can be dangerous, like batteries. After separation, all parts are recycled accordingly. Here are some electronics that can be recycled:
TV-screens, fridges, dishwashers and other devices
Printers, scanners and faxes
Computers, laptops, tablets, monitors and notebooks
Cables and electrical cords
Computer accessories like web cameras, keyboards, mice, modems and USBs
Protect your data
As you pack and prepare your belongings for removal or a trusted man and van in Shacklewell E2, N16 you hired is taking care of this task, keep in mind that, before you gather all e-waste you are not planning to move with you, you need to make sure you copy and then erase the memory and storage of these gadgets. If you don't, your data might be misused. Therefore, make sure that this step is not overlooked.
Never throw your e-waste into garbage bins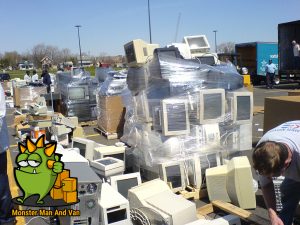 Common mistake people make is that they throw their electronic waste into their garbage bins. When they do this, the waste will end up in landfills. This waste is full of toxic components, such as lead, arsenic and cadmium. These components can cause damage to plants and animals, and potentially impact our water and food supply.
Additionally, just because you place your e-waste into a recycling bin, it doesn't mean that it will get recycled. Not all recycling centres sort e-waste and it eventually ends up in landfills. For this reason, it is extremely important that you know where your waste ends up by allowing a professional waste removal service in London to collect your electronic waste in order to dispose of it properly. You can also check with your local city or town government to see if it offers any recycling options.