Having to relocate to a new city or to the other end of the world is difficult from a financial, logistical and psychological point of view. That is why we will not blame you if you simply want to move within your current neighbourhood or even across the street from your old home. Short-distance moves do have several incredible advantages – you are already well-familiar with the area and you will not need to change your daily commuting ritual. Nevertheless, do not underestimate this type of relocations because they too come with:
A lot of packing and planning
Various risks
Great expenses
Stress
No matter how far or near your new house or flat is, it often takes the same amount of preparation to organise the move.
You will still need to pack everything
We know what you are thinking: "Why bother packing your possessions if your new home is only several metres away from your old one?" You will stop wondering about that the moment you start viewing the packing stage of your move as a way to merely protect and secure your possessions. Whether you like it or not, this process will force you to go through all the items you own and that will encourage you to do some decluttering. Also, by arranging your belongings into different boxes, you will have the chance to easily arrange them in your new property.
Professional help may still be required
We have no doubt that you will be able to move light items such as books, kitchen utensils and clothes all by yourself. But how about your mattress, domestic appliances, etc.? For those, you will definitely need to hire a team of trained movers or at least a seasoned man and van in Ruxley DA14, BR5, for instance. Still, that is not such bad news because if you rely on qualified moving experts, you will not need to spare your weekend and your free time to organise our relocation. You can simply ask the movers to come and collect your possessions during the workweek. So, in some ways, this solution can be more convenient than the DIY alternative.
It will still cost you money
Even if you manage to pack and move your items without the assistance of pros, you may need to hire a moving van or to use all-around storage services in London if you are pressed by time. And imagine that your old furniture and household appliances do not properly match the dimensions of your new house or flat! Buying new ones will definitely make you dig deeper into your pocket.
It can be even more challenging than a long-distance move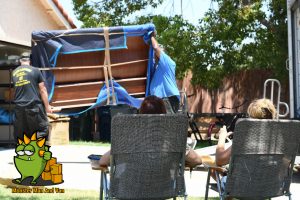 Hopefully, you like your old neighbours because you will continue to live really close to them. This is what you get when you choose to stick to your old area. If you have failed to think through this particular detail before you started house hunting, you may end up being quite disappointed with your new old neighbourhood. That is one of the many reasons why short-distance moves should never be underestimated.