Cardboard is one of the most versatile and widely used materials in modernity. People use cardboard for all sorts of purposes. Cardboard can be fashioned into a variety of products and items, including boxes – perhaps the most popular type of storage and transport container used today. Invention and mass production of cardboard is closely related to that of paper. Paper is the primary source and material for production of cardboard, so it can be said that cardboard itself is a result of advances in papermaking. Technologically, cardboard is usually referred to as a type of thick paper.
When and where paper was first invented?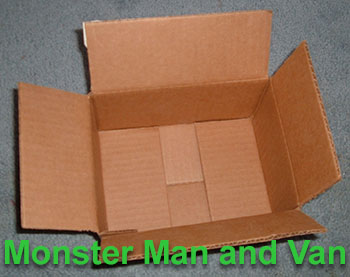 Ancient peoples did not know paper. Although they had written language and wrote messages and historic accounts, they did not use paper but clay tablets, wood, papyrus etc. History says that the first form of actual paper was invented by the Chinese, namely by a man called Ts'ai Lun who was a servant of Chinese emperor Ho Ti. An official Chinese record dating back to the year 105 AD, describes how Ts'ai Lun was able to produce paper by 'pulping fishing nets and rags'. He developed his papermaking process further and began boiling plants, then mashing them into a pulp. Once the pulp was boiled to a homogenous mass, it was spread out on wooden frames. As the pulp dried it formed a thin layer of so called tissue, the tissue layer was then pressed with heavy, flat weights to even the surface and push out any remaining moisture. The thin layer was then re-layered with another, then another thus creating a thicker, stronger paper.
By the early sixteen hundreds, the Chinese had quite extensive knowledge of papermaking and even developed ways to make different types of paper. The overlapping of pulp layers allowed for production of thick paper used for packaging i.e. cardboard. So, according to history it was the Chinese who came up with cardboard first. The knowledge of papermaking slowly made its way west, first reaching the Middle East, and then Europe. Circa the year twelve hundred fifty, papermaking had reached Italy. The first papermaking mill in England was established in fourteen ninety five. During the reign of British Queen Elizabeth I, the first large scale paper mill was opened in Kent.
Papermaking in the old days
In the early stages of papermaking, the new material (including its thicker cardboard-like variants) was produced from rags. Demand for paper and cardboard grew steadily during the seventeen and eighteen hundreds, which eventually led to a widespread shortage of rags. As a result, experimentation began with other source materials like sawdust, and even cabbage stumps! This however proved unsuitable so new ways were found to make paper. About halfway through the nineteenth century, it was discovered that wood and straw were ideal for making paper, and not just one kind of paper but many, including that versatile and handy cardboard. Germans engineers and mechanics, always at the forefront of technology and industry, were able to develop and construct a machine which grinded down wood to small bits and pieces (smaller than wood chips) perfect for making paper pulp. This technology became the norm for papermaking for many decades to follow.
Popular history has it that the first version of cardboard (packaging) was invented by a guy called Malcolm Thornhill in eighteen seventeen, a British industrialist. However, some mystery and controversy surrounds the facts, with many historians believing that Malcolm Thornhill never actually existed, and that he producing the first example of cardboard is simply a well organised internet hoax.
Cardboard and the French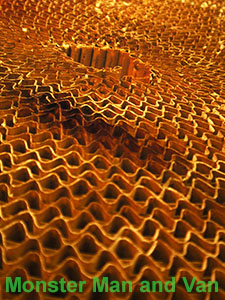 France has had a stake in most of the important events in world history so far, the invention of cardboard and cardboard boxes (important or not) makes no exception. The French claim they were in fact the first to produce cardboard, and even have an official cardboard box museum to support their claim. The museum in question is in Valreas, southeast France. Indeed cardboard boxes were produced and used in France as early as the eighteen thirties, but these were very small boxes, used mainly for carrying silkworm. It is very unlikely that the technology used for making those early boxes was either known or copied outside the small geographical area where they were made and used. The more likely scenario is that the first cardboard box was made by Scottish-born American Robert Gair who was able to come up with cardboard in 1890 through sticking together folded layers of paper board. This is a plausible theory as Robert Gair was the person who invented pre-cut cardboard and the paperboard box. He revolutionised the process of making cardboard boxes by using flat pieces manufactured in bulk which folded into a box.
After the eighteen eighties, cardboard products including boxes and cores exploded onto the scene, people all over the world were interested and enjoying the benefits of this new and versatile material. Two products emerged as the most widely used and versatile items made of cardboard, these were undoubtedly boxes and cores/tubes – the basis of all modern removal, storage and transportation systems.
Cardboard and the British & American
In the early nineteen hundreds, E. Revell and Sons had set up shop in Bermondsey, South London, they were mainly engaged in production of cardboard tubes/cores. A couple of years after they opened their mill, cardboard really exploded onto the scene, helped by none other than the American Kellogg brothers, who were packaging their brand new product – the Cornflakes cereal, in specially made cardboard boxes. The Kelloggs covered their cereal boxes with a waxed, heat sealed bag of material called Waxtite. This outer film allowed for brand names and logos to be effectively printed on the cereal boxes. In modern cardboard packaging production, the protective layer of plastic or the plastic bag so to say is inside the actual box, and contains the product itself. Advancements in chemistry and paper production have allowed for advertising prints to be done directly on the outside of cardboard packaging.
Nowadays, the UK's cardboard making industry is worth four billion pounds a year, and employs more than twenty seven thousand individuals. Cardboard packaging including boxes are considered renewable, clean and highly versatile.