The bathroom is usually the smallest room in a home and that is probably why most people think that they will only need half an hour to pack it. Well, chance will be a fine thing! If you keep a lot of toiletries in your bathroom, you are up for a challenge because those items:
Can easily spill or break and cause a mess in the moving truck
Are not always allowed on board of the transit vehicle
Can be tricky to pack and move
Need to be prepped for the road last
Hopefully, you have hired a qualified man with a van in Putney SW15, for instance, because a professional can be of great help if you are the proud owner of a huge collection of toiletries that include everything from essentials such as toothpaste and shampoo to more specialised items like makeup and beauty products.
Things you do not need to take
Several weeks before the moving day, take the time to go through all of your toiletries. If you see that some of those products are half-used, try to use the rest of them before your relocation date. In that way, you will not need to bring so many stuff with you or to drag items that are already open and ready to spill all over your other belongings.
Unidentified products
If you find some bottles or a container that have no label on them and you have absolutely no idea what is inside of those products, toss them away. It is clear that you have not needed these things in a very long time.
Anything that has expired
An ancient conditioner or soap will be of no use to you neither in your old home nor in your new house. Time to say goodbye.
Damaged goods
The pump of your hand soap is not working properly, the cap of your body wash is cracked… You are looking at a potential disaster. If the packaging of any of your cosmetic products is damaged in some way, it will be hard to keep them away from the other items in the moving van.
Things your movers won't take
Even if you find the most reliable small removals service in London, the movers will still refuse to handle and transport some of your toiletries. That is not because they are rude but because the law prevents them from dealing with items that are hazardous because they contain alcohol (e.g. mouthwash), some type of aerosols (found in deodorants and hairsprays) or can cause a fire (nail polish). If you don't want to leave these possessions behind, you will need to find a way to move them by yourself.
Packing your toiletries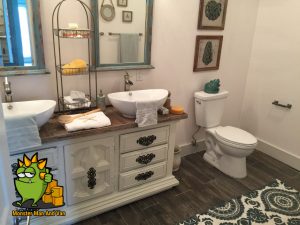 Start by setting the essentials aside. These are the things which you will need to use on the very same day after you move into your new home (toothbrush, hand soap and other everyday products). Pack them at the very end and pack them separately from the rest.
To prevent spillages, put plastic wrap under the cap of liquid products. Wrap everything separately with bubble wrap and then put each of the items in a zip-lock bag. Arrange them either in a bag (with plenty of compartments and pockets) or a moving box in an upright position. To prevent them from shifting, fill the empty space between them with towels or paper.