Unless you have decided to use the services of skilled and qualified packers in London, you will need to learn a thing or two about the different packing supplies which you will need to use to prep your items for their transit. When someone says "packing materials," most people think of cardboard boxes and bubble wrap. But there is one type of packing supply on which you will rely even more – tape. You'd be surprised to learn that there are numerous ways in which tape can come in handy to you when you are preparing for a relocation. Get ready because we are about to unveil some of the most useful of them to you… right about now!
Not just any roll of tape
Before we dive into many fantastic uses of tape and make your relocation experience safer, cheaper and faster, we will first need to clarify something – there are all sorts of duct tapes out there. What is more, not all of them will do when you are packing for a move. The following options are a good choice:
Shipping tape
Coloured or washi tape
Masking tape
Storage tape
Of course, there is also a special packaging tape which is the most multifunctional option which you can find on the market. The solutions you should avoid at all costs, on the other hand, are Scotch tape (cellophane tape), electrical tape, medical tape and plumber's tape. Ask any vetted man with a van in Noak Hill RM3, RM4 and they'll tell you that those just won't do.
Seal those boxes
So, you have filled up your moving boxes and you are ready to load them on the moving vehicle. Wait! Aren't you forgetting something? You need to seal each of the cardboard boxes you have packed before you even think of lifting them. But don't just seal the top of the box. You can tape all of its corners or to even wrap it up completely. In that way, you will be less likely to deal with torn boxes. However, if you are planning to send the packed boxes to a storage facility, do not cover them in tape because that will block the air passage to its contents and that may lead to the formation of mould and mildew. Also, use storage tape because it is stickier and it will last longer than a standard packaging tape.
Secure the bottoms
To prevent the bottom of the boxes tearing up, tape it well. You can use shipping or packaging tape for that. Just make sure you take care of this before you fill up the box.
Use for organisational purposes
If you need to pack a lot of small items together such as kitchen utensils and tools, bind them with masking tape. It will not make your possessions sticky or gluey when you remove it and it will keep everything neatly packed together.
Coloured or washi tape is perfect for labelling and colour-coding the packed moving boxes. Yes, you can use a simple black marker pen. However, using a colour-based labelling system will help you or your trained man and van in RM14, for instance, to quickly organise, load, unload and unpack your possessions.
X marks the spot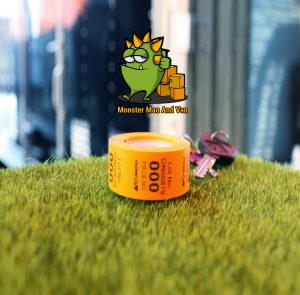 Finally, if you need to move a large mirror, framed painting or a photo, you can tape the glass in the shape of an X. In that way, if it cracks during the moving process, the tape will keep it together and prevent it from completely shattering and tearing every around.
Time to go and shop for some tape! As you can see, it is simply a must to use this packing supply when moving.