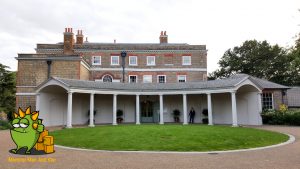 Despite being an Outer London borough, the London Borough of Redbridge is one of the most attractive areas for retired couples and families who are looking for affordable housing. Some of the main reasons why many decide to move to this borough with the help of a reputable man and van in Loxford IG1, for example, are its proximity to the heart of the capital (only 20 minutes away), high-quality schools that are among the best in London, a vast of green spaces and many local landmarks and attractions, including Valentines Mansion, Kenneth More Theatre, Redbridge Museum and other.
Pictured: Valentines Mansion, Ilford
Affordable house prices to fit any budget
As mentioned above, the London Borough of Redbridge is an ideal place for families, retired couples and first-time buyers. It is one of the most affordable boroughs, with average house prices about £450,000. One of the most popular areas in the borough for young families is Wanstead. With its charming village atmosphere, many large semi-detached and detached properties with a fanciful high street and a few cosy pubs, Wanstead has so much to offer. If your choice is this charismatic suburb, make sure you hire an insured man with a van in Wanstead E11 and make your removal as smooth as possible.
Arts and culture in the London Borough of Redbridge
When it comes to cultural events, Redbridge is one of those sleepy boroughs. However, it does have a few nice spots where residents and visitors can enjoy some artistic performances, interesting exhibitions and displays. Some of those spots are:
Valentines Mansion
Redbridge Drama Centre
Kenneth More Theatre
Redbridge Heritage Centre
Along with a number of licenced man and van services in South Woodford E18, its residents and visitors can enjoy Redbridge Drama Centre, which offers young people an opportunity to participate in a professional performance and gives the public a year-round opportunity to see live shows. For those who are eager to learn more about the history of the area, the Redbridge Museum is a place to see. It features interactive and touch displays and family trails to help bring the past to life.
Redbridge – one of the greenest boroughs
Redbridge is one of London's greenest boroughs, with more than 35 parks, many of which have won prestigious Green Flag awards. One of the most famous parks is Hainault Forest Country Park, opened in 1906, which includes café, children's farm, fish and boating lake and other interesting play areas. Valentines Park is an award-winning park situated next to the charming Valentines Mansion offering several attractions for visitors. Other parks are Roding Valley Park, Claybury Woods and Park, Wanstead Flats, Fairlop Waters Country Park, and other.
Pictured: Hainault Forest Country Park
Schools in Redbridge are among the best in London
Quality schools across the borough add up to its popularity with young families with children. According to the studies from 2011 and 2012, the borough is praised to have sent more young people to university than any other borough in London. The most popular primary schools with 96% of pupils achieving expected levels of English and Maths are Christchurch Primary School, Gearies Junior School and Redbridge Primary School. Chadwell Heath Academy and Trinity Catholic School are among the most popular secondary schools in the borough. All schools participate in the Redbridge Schools Choral Festival, which is held in the Royal Albert Hall in Knightsbridge. Therefore, you can rest assured that your child will get thebest education should you move to the London Borough of Redbridge. A seasoned man and van in Newbury Park IG2 can help you with quick relocation.
Transport in Redbridge
Thanks to an efficient public transport, the London Borough of Redbridge is suitable for commuters who are travelling into East and Central London for their work. The Central Line on the Underground with its various stations across the borough and a direct train from Wanstead Station to Bank Station taking less than 20 minutes make Redbridge well-connected. TfL Rail, National Rail and London Overground services are available for travelling to more distant areas. Therefore, those who are planning to move to Redbridge can relax not only because of numerous trustworthy man and van services in Redbridge IG4 but also because Crossrail is planning to arrive soon, which will enable Redbridge residents an even quicker commute than ever before.
Pictured: Redbridge Tube Station